A View of the West: Featuring South Florida artists William Bock and Maria Sotolongo

Park Avenue © 2009 William Bock and Maria Sotolongo


Where: Art & Frame and The Williams Gallery

Dates: Saturday October 17 through Saturday November 14, 2009

Opening Reception: Saturday October 17, 4:00 PM – 6:00 PM (free to the public)

Location:
6099 Stirling Rd Suite 107
Davie, FL 33314

(Triangle Professional Building)

Phone: (954) 533-3974
Email: fineartandframes@earthlink.net

Gallery Hours:
Mon. - Sat. 10:00 AM - 5:00 PM


Arches © 2009 William Bock and Maria Sotolongo
---
About the Artists
Since 1994 William Bock has been recognized as a leading environmental artist. He is referenced in the Blue Book of American Artists. His paintings of marine life, flora and fauna, the everglades and other native surroundings are in numerous collections, both private and corporate. Joined 2 years ago by his wife/photographer, teacher and media specialist, they have traveled and worked together, collaborating on their art.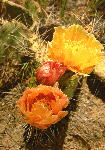 In the current exhibit the local boundaries of Florida have been extended to the Western United States with focus on the vast landscape and the intricacy of detail found in the mountains and deserts of Utah. On view are singular works by each artist as well as a collaboration of work combining photographic techniques and painting.

A dedication to art and to our environment permeates the paintings and prints of Bock and Sotolongo. Their focus on nature is evident. The spectacular architectural design of a natural 'arch' against a brilliant blue sky inspires awe of natural beauty and design. In contrast, the fine detail of multicolored 'cactus flowers' shows nature in its infinite variety.
Home Page | Artwork | Framing | Restoration | Shows & Events | Online Store | Master Works | Pioneers | Princeton
Willard Page Collection | William Bock's Fine Art Catalog Rasoniee
Contact Us | About Us | Art Links
This page is copyright ©1995 - 2019
William Bock Fine Art LLC