ART AND OUR SCHOOLS: OUR MARINE LIFE, OUR WORLD
A fund raiser and exhibit of artwork by the students (K-5) of Nova Dwight D. Eisenhower elementary school, in conjunction with Art & Frame. Proceeds will benefit the Nova Art Fund.

"Untitled Sea Life", Fourth Grade
(15"x12", mixed medium on paper) 2010



Where: Art & Frame and The Williams Gallery

Dates: Saturday May 7 through Saturday May 15, 2010

Opening: Saturday May 15, 2010 3:30 – 5:30 PM (free to the public)

Location:
6099 Stirling Rd Suite 107
Davie, FL 33314

(Triangle Professional Building)

Phone: (954) 533-3974
Email: fineartandframes@earthlink.net

Gallery Hours:
Mon. - Sat. 10:00 AM - 5:00 PM


"Untitled Sea Life" , Grade Kindergarten
(9"x12", mixed medium on paper) 2010



Mural done by the Nova students (K-5). It measures 5'x10' and will be on exhibit during the art opening.
ABOUT THE SHOW:
The current show has been created by the children of grades K -5 of Nova Dwight D. Eisenhower Elementary school and hosted by Art & Frame of Davie, Florida, marking their sixth annual show. Nova Eisenhower's art teacher Kristina Caro and gallery curator William Bock are delighted to be able to exhibit the children's creative and inspiring work.
Nova principal Ms. Lesser and assistant principal Mr. Jenkins effort to create working partnerships between the school and the business community have been instrumental in bringing about these exhibits. Bock states, "The Children's art does justice to the walls of any art gallery".
The images on display show an exceptional variety of creativity, imagination and talent. The student's awareness of environmental concerns is evident in much of their work. The collective work is a pleasure to behold!
ABOUT THE FUND RAISER:
PROCEEDS from the framing of student art work and from Marine Life Jigsaw Puzzles by gallery artist William Bock will benefit the Nova Art Fund.
Marine Wildlife artist William Bock Presents, Life on the Reef and Majestic Sea Turtles: 2 Jigsaw Puzzles Created to Inspire appreciation for our Marine Habitat. Each Brilliant colored puzzle is signed on the Box by The Artist and comes packaged with an educational identification card.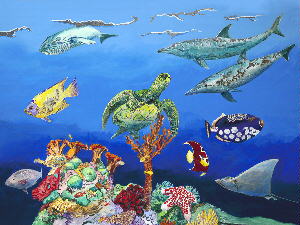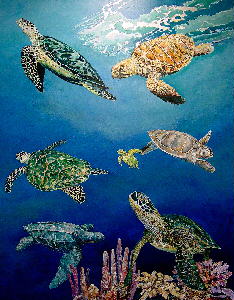 ABOUT THE GALLERY:
Gallery owner and artist William Bock is active in his support of Nova Eisenhower Elementary School where his daughter attends 5th grade. In his gallery studio William teaches painting classes for children ages 5 – 16. Classes meet on Tuesdays from 5:00 – 6:30
Born in Chicago, artist Bock began his professional career at Indiana University, followed by an apprenticeship at the Johnson Atelier Technical Institute and School of Sculpture in New Jersey. He received his Master of Fine Arts degree at the Maryland Institute College of Art in Baltimore, MD in 1987. He is the founder of
Our Oceans, Our Children, Our Future, which is a school of art promoting environmental awareness through art education. William Bock has exhibited extensively throughout the United States and has participated in several museum exhibitions. He has won numerous awards for his painting and his work is included in many prestigious collections.
Contacts:
Nova Eisenhower Elementary School: 754-323-6650 kristina.caro@browardschools.com
Art & Frame Shop: William Bock: 954-533-3974 fineartandframes@earthlink.net
Home Page | Artwork | Framing | Restoration | Shows & Events | Online Store | Master Works | Pioneers | Princeton
Willard Page Collection | William Bock's Fine Art Catalog Rasoniee
Contact Us | About Us | Art Links
This page is copyright ©1995 - 2019
William Bock Fine Art LLC