The Flowers of Summer – Then and Now



Sotolongo "Trinity" ©2015




Bock "Orchid Basket" ©2015


Where: Art & Frame and The Williams Gallery

Dates: Saturday July 18 through August 31, 2015

Opening event July 18, 2:00 - 5:00 PM (free to the public, parking in rear)

Location:
6099 Stirling Rd Suite 107
Davie, FL 33314

(Triangle Professional Building)

Phone: (954) 533-3974
Email: fineartandframes@earthlink.net

Gallery Hours:
Mon. - Sat. 10:00 AM - 5:00 PM
---
A special presentation of works by Maria Sotolongo and William Bock are on display. Also being shown are images of flowers dating from late 19th century chromolithography to paintings and photography of the 21st century.
Maria Sotolongo's vibrant images showcase her delight in observing the intricacies of flowers. Working in both acrylic and oil she captures the fleeting beauty of their impermanence.
William Bock's assemblages use distressed 'orchid baskets' which cradle fossils, stone, and delicate paintings of flowers and landscapes. Reminiscent of Joseph Cornell's boxes the pieces draw you into the artist's world in delightful packages.
Among additional flora in the exhibit are: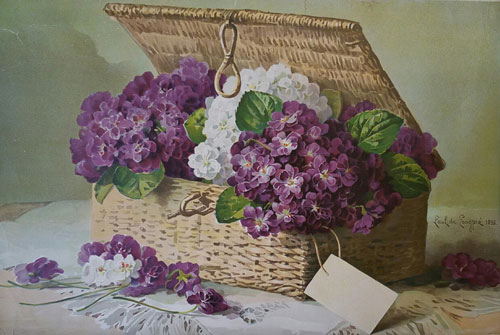 Chromolithography "Invoice of Violets" by P. De Longpre, ©1895, Chicago Chronicle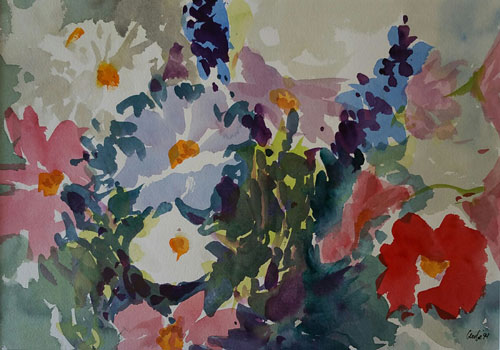 "Flowers from an English Garden ©1994" by Thomas George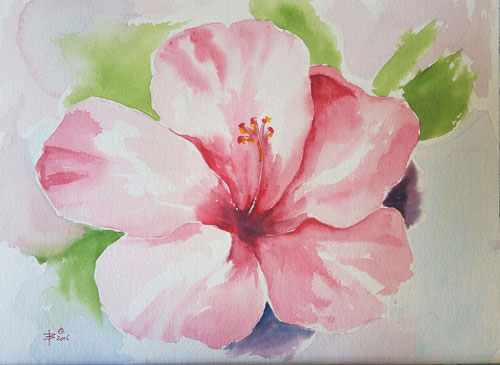 Watercolors by Ernest Bock "Hibiscus ©2015
Gallery Statement:
"Our international collection of fine art focuses on artists from Australia, Japan, the Netherlands and the United States. We work directly with the artists featured in our gallery to ensure that the artwork we carry is of the finest quality. We strive to learn as much as possible about the artist and to follow his/her career and development. Each piece of artwork has a story. We do our best to know and to understand the nature of the work, the artist's philosophy in creating it, and the way it fits into the art world as a whole." Mary Lou Bock/Curator ©2015
Home Page | Artwork | Framing | Restoration | Shows & Events | Online Store | Master Works | Pioneers | Princeton
Willard Page Collection | William Bock's Fine Art Catalog Rasoniee
Contact Us | About Us | Art Links
This page is copyright ©1995 - 2019
William Bock Fine Art LLC