Welcome to our review of the Santa Cruz Open Studios. Once again, join our roving reporter in his travels to special art events throughout California.
Santa Cruz Open Studios
October 5th and 6th, 12th and 13th,
and ( an encore weekend Oct. 19th and 20th )1997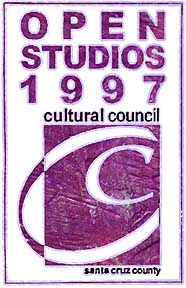 a review by Jonathan Bock
Santa Cruz is best known for it's beautiful beaches, surfers, boardwalk, and historic Spanish Mission. When I heard it was also home to a thriving community of artists that annually make their homes and studios open to the public, I packed up my van, grabbed some sun screen and a beach chair, and hit the road. The Santa Cruz Open Studios is a three weekend event, with over 250 artists showing their work. The first weekend covers the south county, from Downtown Santa Cruz to Rio del Mar, six miles to the southwest. The second weekend covers most of the city, and north into the forested canyons of the Santa Cruz mountains.
Not only is the Open Studios event a showcase for a broad variety of artwork, it is also a chance to see how artists live and work. Seeing the artist's homes, studios, presses, kilns, looms, and workshops is a unique opportunity to see into their lives, and understand a little more about how and why they do their work.
I would like to apologize now for not covering everyone who presented their work in the show, but with 250 artists showing, I would have to have been ten people to see it all. In the two weekends that I attended, I was able to cover about ten artists a day, and still I felt rushed. Out of the 40 or so artists I did get a chance to meet, I have covered 24 in this article. To the rest of you I offer my thanks for your hospitality and hard work.

| | | | |
| --- | --- | --- | --- |
| Saturday, Oct 5 | Sunday, Oct 6 | Saturday, Oct 12 | Sunday, Oct.13 |

Send your questions or comments to
webmaster@wmgallery.com
---
Home Page | Catalog | Featured Artist | Visiting Artist | News | Fun | Info
The copyrights for all artwork shown are
 retained by their respective artists
All pages in this review are copyright © 1997 The Williams Gallery