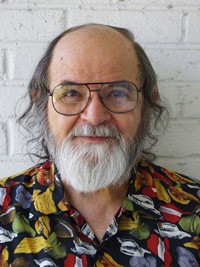 Roman Verostko, artist and educator, began integrating personal computers with his studio work around 1982. In March of 1986, at the MCAD Centennial Faculty Show, he exhibited his Magic Hand of Chance, his first self generating sequence of visual improvisations. The following year he focused his software on creating pen plotted drawings and achieved the world's first software driven "brushed" strokes using oriental brushes mounted on his pen plotter (1987). By adding a network of several pen plotters that he views as "scribes" his studio emerges as an information age digital scriptorium.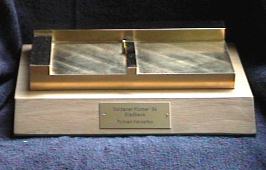 The Golden Plotter Award, 1994
Recipient of the Golden Plotter First Prize (1994, Gladbeck, Germany) and an Ars Electronica honorable mention (1993) his work has been exhibited in major art and technology exhibitions on four continents including "Genetic Art and Artificial Life" (Linz, 1993) and the ARTEC 1995 Biennial (Nagoya, Japan). As program director for the Fourth International Symposium on Electronic Art (1993) he led this historic conference to focus on "the art factor". An MCAD Professor Emeritus, he has published articles and lectured internationally on the subject of "Art and Algorithm". Recent work includes a 40 foot algorithmic mural, Epigenesis: the Growth of Form (www.verostko.com), in the new Science and Engineering Center at the University of St. Thomas (St. Paul Campus, 1997).
---
Home Page | Artwork | Framing | Restoration | Shows & Events | Online Store | Master Works | Pioneers | Princeton
Willard Page Collection | William Bock's Fine Art Catalog Rasoniee
Contact Us | About Us | Art Links
This page is copyright ©1995 - 2019
William Bock Fine Art LLC