Home Page | Catalog | Featured Artist | Visiting Artist | News | Fun | Info
WELCOME TO OUR SAUSALITO ART FESTIVAL PAGE
READ OUR REVIEW OF THE FESTIVAL
AND
BROWSE PICTURES FROM THE SHOW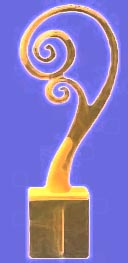 The 45th Annual SAUSALITO ART FESTIVAL
A review by Jonathan Bock
Aug. 30 - Sept. 1, 1997
We came and went from the festival via the Blue and Gold ferry service from Fisherman's wharf in San Francisco. Glorious weather, and the fabulous views as we crossed the bay, heightened our anticipation for the show to come. The ferry passed through sailboat dotted waters, past Alcatraz and the Golden Gate bridge, and into Sausalito harbor.

Sausalito has been a focal point for artists since the first weekend painters arrived by sailboat from San Francisco in the early 1800s. After World War 2, the idle waterfront became a magnet for poets, writers, artists and film makers. The first festival was held on Shell Beach, September 6, 1952. Now the festival draws thousands from all over the world.

Thanks to the forethought of the festival staff, the Blue and Gold provides special service directly to the Art Festival Pier. Passengers arrive only a short walk away from the festival grounds. The ferry shares the pier with the impressive bulk of the Wapama, an 1880s freighter dry-docked and under restoration along the north side of the pier.

The festival grounds were scattered with an inviting encampment of booths, their white canvas awnings contrasting cheerfully against the olive green hills. We entered the maze of tents, and were quickly engrossed in a pageant of color and form. The show represents a wide cross section of media, including painting, sculpture, ceramics and prints, photography, clothing, jewelry, furniture and more. Two stages, a huge dining pavilion, and a wide selection of tasty cuisine promised a great time ahead.

What first drew my attention to the Sausalito festival was the introduction of the Computer Arts Pavilion. In 1996 the festival first opened its doors to computer artists. The creation of the pavilion is a major step toward the acceptance of computer art by the mainstream art world. The pavilion was created to draw attention to digital work as a valid art form, and to bring the public into contact with artists working in the forefront of contemporary computer art and animation. The Pavilion featured a dozen artists using a wide range of computer imaging techniques, including photographic prints, light boxes, Iris prints, paintings, film, video, and interactive media. The show was curated by Silicon Graphics, creators of state of the art computer imaging hardware and software, and ACM Siggraph, an organization dedicated to the advancement of computer imaging, interactivity, and animation.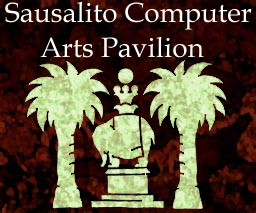 While attending Siggraph in August, I met an old friend from California Institute of the Arts, Joel Mariano. He mentioned he was working on a new digital printing process, and would be showing it off at a big show "somewhere up north". Shortly after, I received a press release for the festival, and an official announcement of the plans for the computer pavilion. I was off in a flash, booking ferry tickets, finding a hotel, and heading for the show.
As I had hoped, Joel was showing in the pavilion. In the early 1980s Joel and I had both spent long hours in the CalArts computer animation lab learning the ropes of 3D art and animation. Since CalArts, Joel has spent 8 years in the computer entertainment industry, but has now refocused on fine art. Joel has teamed up with another CalArts alumni, J.T. Moore, who was instrumental in creating the CalArts video studio. They describe their process as an Ultrastable Print, archival up to 500 years, and capable of printing on paper, canvas, and even glass.

As I continued through the pavilion, I came across some striking work by artist / programmer Frances Dose. Frances is another CalArts alumni who has prospered in the professional computer graphics world, as well as the art world. After CalArts, Frances spent several years at Xaos tools developing image processing software, and has now moved on to work for Kodak. She also teaches at San Francisco Academy of Art, and is considering continuing her education at U.S.C. Frances' work is abstract, but contains some recognizable figurative and floral references. Her work displays a strong sense of color, and a mastery of flowing abstract forms. Her images are reminiscent of water color, enhanced by the vibrancy and clarity of the computer tools she has chosen for her work.

Another striking artist in the pavilion was H.R. Downs, creator of "Hughman Art". His images are a combination of traditional painterly techniques, computer effects, and photographic images collected during extensive travels in Tibet, India, and Nepal. The images are deeply spiritual, and combine religious iconography, mountainous landscapes, figurative elements, and horses. Downs' treatment of the photographs gives them a larger than life, dreamlike quality. His work is heavily influenced by his studies of eastern religions, and his two year apprenticeship to a master of Buddhist painting. Downs states, " The computer has become, for me, a kind of
preternatural camera. A camera that is able to record those rare moments when the real and the ideal intersect."

Much of the computer work I was seeing was abstract, making the highly detailed images of Bert Monroy stand out in the crowd. Monroy takes a different approach. His work is painstakingly creating using 2D art programs including fractal design painter, Adobe Illustrator, and Photoshop. Monroy is an established commercial illustrator, and a teacher of computer design. His super real city scenes are surprisingly 3 dimensional, but in fact he uses little or no 3D art tools in their creation. Careful attention to surfaces and weathering, as well as light and shadow, add to the realism of his images. His work is featured in the Jan 1997 issue of Computer Artist magazine.

In summary I believe that the pavilion was a great success. If there was any drawback, it was that it could have been twice as big. The pavilion was well organized. The work was well presented, and covered a wide range of styles and final output media. The few artists I have mentioned here are the ones that stood out to me, but it is only a small representation of the artists present. There was more good work than I can present in this review. My hat is off to the festival staff, Silicon graphics, and Siggraph for promoting and curating this special event, and for bringing computer art into the public eye. It is worth mentioning that while the Pavilion focused on computer art, several other artists using computer imagery in their work participated in the mainstream show. I will talk about them a little further on.

We left the shady interior of the computer pavilion and headed into the show. The music had started, and a playful breeze teased the trees lining the harbor. The crowd was relaxed and happy. We wandered lazily from artist to artist, with something delightful awaiting us around every corner.

The festival was made livelier by the imaginative kinetic sculpture of Susan Beran. Susan's work combines an expressionistic aesthetic with thoughtful engineering. Susan's pieces are driven by wind and water, and are constructed from a variety of metals. Her sculptures are complex constructions of welded copper, brass, and aluminum with natural or brushed metal patinas. Rich glazes add colorful accents in strategic locations. First impressions bring to mind weather vanes gone mad, but a more careful examination reveals a great deal of thought in the relationships between the elements of each piece, and the forces that drive them. Susan's work was featured in the motion picture "Twister".

The festival featured a wide array of blown and fused glass, sparkling in the California sun. The intense color and bold design of the work of Bob Kliss of Fresno added an exciting accent to the show. His work included delightful abstract paperweights, perfume bottles, and elegant but playful ornamental vases. Outstanding among his work were a number of large, thick walled vases in rich primary and secondary colors.

Hollie Ambrose and Wil Strubenberg were making jewelry, when their imagination was sparked by some of their designs. Their intuitive leap from jewelry to sculpture resulted in a series of large scale figurative and mask-like creations that are both disturbing and delightful. Their work combines carefully selected found objects with burnished and painted metal forms. Glass eyes, toys, kitchen utensils, reflectors, boxes, and bones are juxtaposed into constructions that are at once satirical, humorous, and a bit frightening. The combination of objects in each piece tells a story, usually reflected in the title.

Gloria loved the cast iron pig. I have seen just about everything welded together to make an artistic statement, but the pig was special. Patrick Meyer's welded found objects are more than just a rusty conglomeration. In his sculptures, found objects take advantage of their own colors and patinas, with a little help from cleaning, buffing, and welding. relationships of colors and surfaces are carefully considered in the construction of animal and figurative forms. His pieces can easily be imagined standing cheerfully among a burst of spring blossoms, or poking out of a thicket of ivy in a formal garden.

I have always been a lover of artwork based on organic forms, so the work of Bob and Judy Dykstra-Brown was a personal delight for me. In the pictures you see here, the well crafted and obviously organic quality of their pieces is evident, but these examples do not do justice to the body of their work. I was quickly drawn into their booth with a definite feeling that I had discovered something special. The Browns create jewelry, hand carved Ikibana vases, and one of a kind hand crafted lamps. Most of the work is constructed from sturdy hand made papers, supple wooden forms, bone, stone and other natural materials. A metal highlight where form dictates adds to their elegant feel. Most of their work is illuminated in a manner similar to japanese lanterns, with strategically placed light sources taking full advantage of the texture and diffusive qualities of their paper shades.

Outstanding among the show's printmakers was the work of Gabor Koranyi. His prints display a mastery of a variety of techniques including etching, aquatint, and drypoint. His work focuses on universal human symbols, both traditional and modern, as well as on human forms, particularly that of the venus or madonna. His figure interlock in repeating patterns, or populate dreamlike environments. His colors are carefully restricted to ranges of subtle earth tones; sepia browns, ochres and reds remind the viewer of worn cloth and leather, or primitive painting.

Several computer artists not exhibited in the computer pavilion held their own in the mainstream juried show. For the uninitiated, the computer element of these works could easily have been missed. John Rife combines abstract painting and printmaking with computer generated imagery, His minimalistic compositions combine jagged, juxtaposed blocks of solid color, and bold rough marks . Sandy Young uses the computer to create soft, colorful montages that remind the viewer of manipulated photographs. Sandy combines classical images, old postcards, and text with subdued semi-transparent areas of rosy reds, blues and purples. The images are nostalgic, dreamy, and quite, not unlike a dried bouquet. Gorganok and Srimongkol Darwali presented a prolific array of small to medium sized abstract prints and paintings, most created wholly or partially using 2D computer graphics. Their work reminded me of the abstract work of Kandinsky or Miro, combining bold marks, simple patterns, playful color arrangements, and active primitive forms.

Laura Scott was one of many watercolorists represented at the show. Her work includes detailed still lives and stunning floral arrangements. Her crisp photorealistic style is noteable in a medium that is often loose and stylistic. Her bright, luscious color adds to the sense of realism of her work.

Ceramics abounded in the show, from traditional native american designs to sheik high fired glass. Ceramicist Rene Ramsey's work made a bold statement in black and white. Her work includes sinuous teapots, tripod bowls, wall plaques, trays, and a variety of bowls. Her pieces combine delicate organic form with bold black on white patterns, often with linear elements etched into the black outer layer of glaze.

I came away form the festival knowing that I would be back. The overall quality of the work was impressive, the result of a carefully and skillfully juried show. The range and variety of work was well balanced, with several quality examples of most all traditional media. With over 14,000 works of art on display, I can only begin to point out in this article the things that caught my eye as we wandered from booth to booth. The food was good, the music was great, and I can't think of a better way to spend a labor day weekend. I want to extend my thanks to Ben Train, 15 year festival veteran, for answering my questions, and the rest of the festival staff for organizing and curating a wonderful event.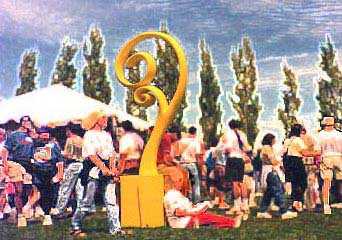 1997 Sausalito Art Festival, a truly fabulous show!
Want to learn more about Sausalito? Visit the
Sausalito Chamber of Commerce
We have done our best to give you an entertaining and accurate account of our experience at the Sausalito Art Festival. If we did not get something quite right, or you have additional information, please contact us and let us know.
Send your questions or comments to
webmaster@wmgallery.com

Home Page | Catalog | Featured Artist | Visiting Artist | News | Fun | Info

The copyrights for all artwork shown are
 retained by their respective artists
All pages in this tour are copyright © 1997  The Williams Gallery