Search | Order | What's New

Jules Engel Remembered

Artist, Animator, Film Maker: showing animation cels, drawings, prints and paintings spanning the years 1966 – 2002

"My concern is not so much with texture as with shapes of all kinds in their multiplicity. Their relationships and their capacity for metamorphosis - the way forms are related and made dynamic through motion".

© 2002 Jules Engel

When: September 6 – October 1, 2005

Hours: by appointment only
11:00 AM to 4PM
Tuesday - Saturday
Call to set up a time:
609-921-1142

Where: The Williams Gallery
6 Olden Lane
Princeton, NJ


© 2002 Jules Engel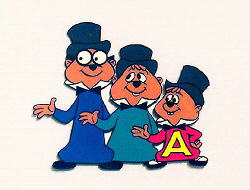 © 2002 Jules Engel
---
Animation cels of Mr.Magoo and Gerald Mc Boing-Boing, paintings, drawings and lithographs (some from his early period at the Tamarind Lithography workshop in California). Also on view are animation drawings from Engel's 1992 film Skyscraper, in colored pencil, pen and marker, a selection of drawings, paintings and prints from 1945-2002. Over fifteen of the works are from 2000-2002 - a series of lithographs that vibrate with color, form and movement. The majority of the art is unframed and available to be viewed on request.
ABOUT THE ARTIST: Born in Budapest, Hungary, Jules Engel immigrated to the United States with his family in the 1930s. It took less than a decade for him to become an influential artist in southern California, where he created several series of lithographs at the prestigious Tamarind Lithography Workshop in Los Angeles, as well as other prints at Tyler Graphics. Engel is featured in the book Turning the Tide: Early Los Angeles Modernists
Engel's paintings, drawings and prints may be found in many museums and collections, including the Los Angeles Museum of Contemporary Art, the Museum of Modern Art in New York, the Hirshhorn Museum and Sculpture Garden, and the Whitney Museum. Since 1969 Mr. Engel headed the Department of Animation And Experimental Film at the California Institute of the Arts, where he continued to create his own work as well as train a new generation of artists and filmmakers.
His heartfelt advice to young artists was: "What's most important is to do and do and do," Engel says. "Just keep working."
Valencia, September 8, 2003 - Jules Engel, a true pioneer in the art of animation and one of the most beloved educators in the history of Cal Arts,died on September 6 in Simi Valley,CA,after a short illness.He was 94.
Engel's illustrious career as an animator, producer, film director and abstract artist ranged from working on the landmark Walt Disney classics Fantasia and Bambi to creating groundbreaking cartoons for the United Productions of America (UPA) and Format Films and, later, to his own internationally celebrated abstract animations and live-action films. In 1970, Engel founded Cal Arts' Program in Experimental Animation, widely recognized as one of the world's foremost centers for animation arts. In 2001, Cal Arts hailed his indelible contribution to the arts in by conferring on him the title of Institute Fellow, the highest honor awarded to faculty. Engel was born in Budapest, Hungary, and moved to Oak Park, IL, when he was 13. A great runner in high school, he earned a track scholarship to UCLA. Once he arrived in Los Angeles, he was hired by an artist to create landscape sketches. Engel began his career in animation at the studios of Charles Mintz, where he was first employed as an inbetweener. In the late 1930s,hemovedto the Walt Disney Studios and, drawing on his knowledge of dance, designed the movement for several key dance sequences in Fantasia. While at Disney,he also worked on Bambi. During World War II, he served in the Motion Picture Unit for the Army Air Corps, under Ronald Reagan.
Engel was one of the founders of the innovative animation studio UPA, where he, along with Robert Cannon, developed 'toons such as Gerald McBoing-Boing, Madeline and Mr. Magoo IN THE 1940S..Beginning in 1959, Engel joined forces with friend Herb Klynn to start Format Films. There, he worked on several popular cartoon shows including The Alvin Show and The Lone Ranger. Engel also collaborated with Dr.Seuss author Theodore Geisel and Oscar-winning filmmaker and designer Saul Bass. In 1962, he produced the Oscar-nominated animated short Icarus Montgolfier Wright,which was based on a script by science fiction writer Ray Bradbury about the first human travel to the moon.
In 1968, Engel's friend Anais Nin introduced him to Robert Corrigan,thefirst president of Cal Arts. Corrigan hired Engel to start an animation program at Cal Arts' new campus in Valencia. Engel launched the Program in Experimental Animation in 1970 and continued to direct it until 2001. In his more than 30 years at Cal Arts, Engel was an influential educator and a cherished mentor to generations of animators and artists. He inspired students such as John Lasseter, Henry Selick, Tim Burton, Joanna Priestley, Christine Panushka, Ellen Woodbury, Paul De Meyer, Eric Darnell, Kathy Rose, Stephen Hillenburg, Joyce Bornstein and Mark Kirkland, among hundreds of others.
In the fall of 2001, Cal Arts honored Engel by naming him Institute Fellow. He was the third recipient, following filmmaker Alexander MacKendrick and composer Mel Powell,of Cal Arts' highest honor.. In 1992, the Association Internationale du Film Animation-Canada presented Engel with the Norman McLaren Heritage Award for his "inspiring achievements as a mentor at
Cal Arts." In addition, Engel won five Golden Eagle Awards, an Annie Award, a Winsor McCay Award, and a Jean Vigo Award. In April of this year, he was honored with a lifetime achievement award at the Cartoons on the Bay Festival of Television Animation in Positano,Italy.
Engel's fine art and graphic works have been shown in museums and gallerie since 1945, including the Whitney Museum of American Art, the Los Angeles County Museum of Art, and the Museum of Modern Art in New York. Two years ago, The Williams Gallery in Princeton, NJ, presented the exhibition Modernism, Mr. Magoo and More…..
Home Page | Artwork | Framing | Restoration | Shows & Events | Online Store | Master Works | Pioneers | Princeton
Willard Page Collection | William Bock's Fine Art Catalog Rasoniee
Contact Us | About Us | Art Links
This page is copyright ©1995 - 2019
William Bock Fine Art LLC