Search | Order | What's New

FAITH RINGGOLD: NEWLY RELEASED WORKS FROM HER JAZZ SERIES, " MAMA CAN SING.., WYNTON'S TUNE, and YOU PUT THE DEVIL IN ME."

and

CURLEE RAVEN HOLTON: "WE ARE…" a NEW ORIGINAL HAND BOUND BOOK WITH IMAGES BY CURLEE RAVEN HOLTON and WORDS AND MUSIC BY YSAYE M. BARNWELL.


Blues State of Mind © 2004 Curlee Raven Holton


Quilt© 2000 Curlee Raven Holton

When: November 27 – December 13, 2004

Opened to the Public: Saturday, November 27, 1:00 AM – 5:00 PM & Sunday, November 28, 1:00 AM – 4:00 PM

Hours: by appointment only
11:00 AM to 5PM
Thursday - Saturday
Call to set up a time:
609-921-1142

Where: The Williams Gallery
6 Olden Lane
Princeton, NJ


You put the devil in me © 2004 Faith Ringgold


Under a Blood Red Sky © 2001 Faith Ringgold


Wynton's Tune © 2004 Faith Ringgold

---
About the Exhibit:
On view: Limited edition serigraphs from the new 2004 "Jazz" Series by African American artist Faith Ringgold include: "Mama Can Sing, Papa can Blow". "You Put the Devil in Me" and "Wynton's Tune." "Ms. Ringgold's wall sculpture was recently installed in the new Princeton Public Library. She is the creator of the 2004 National Black Arts Festival Collector's Guild commissioned print. Known nationally and internationally, especially for her painted story quilts, Ringgold unveiled "Wynton's Tune Jazz Festival Series 2004" during a special ceremony at the annual festival in Atlanta.
And
On view: By Curlee Raven Holton: a selection of etchings from the "Blues Book" including "The Quilt" which was recently acquired by the Pennsylvania Academy of the Fine Arts; his"Jazz Book" with etchings and text; and his newly released book "We Are…."
Prof. Holton has been collaborating with Faith Ringgold for the past 10 years as her master printmaker. They have created many images over this period, some of which have been included in collections such as those of the Metropolitan Museum and Yale University. They share a connection based on a deep appreciation of the African American experience and an understanding of the power of art as a transforming vehicle of culture and tool of education.
In the current show "Under a Blood-Red Sky #5" Ringgold's newest image from the 'Coming to Jones Road' Series will also be on view. It is a 12-color serigraph done in cooperation with Lafayette College's EPI.
ABOUT THE ARTISTS:
CURLEE RAVEN HOLTON may best be described as a Renaissance man of the 21st century. He is an artist of great merit able to inspire with his imagery and intent. He is a professor and head of the Lafayette College Experimental Printmaking Institute (EPI), a lecturer, an authority on African American Art, and an activist educator who transfuses his positive ideas of art and humanity with whomever he comes in contact.
Recently, "The Skillet," an etching created by Curlee Holton was selected for inclusion in the collection of the Library of Congress. Another Holton piece "The Quilt" was commissioned by the African-American Museum of Philadelphia for its members. This piece came out of a series of drawings about the blues music tradition that was so much a part of my growing up," says Holton. "My father was an avid listener of the blues and later I realized the significance of the music as a vehicle of cultural expression." An etching with collage, "The Quilt" measures 22 by 30 inches and was completed in 2000. It presents a lone figure playing the guitar and singing sad songs. "The songs document a longing for happiness and love," says Holton. "The blues are calling out for that."

Holton has mounted more than 30 one-person shows and participated in more than 75 group exhibitions, including the Seventh International Biennale at the National Center of Fine Arts, Cairo, and shows at Centro de Cultura Casa Lamm Gallery, Mexico City. His works are in the collections of universities, foundations, and corporations, including Cleveland Museum of Art, Federal Reserve Bank of Cleveland, Allentown Art Museum, Villanova University, and Morehouse College. He was the1999 recipient of Lafayette's Carl R. and Ingeborg Beidleman Research Award, recognizing excellence in applied research or scholarship.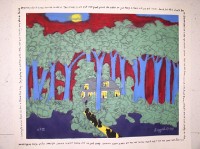 Coming to Jones Road Under a Blood Red Sky #5 © 2004 Faith Ringgold
FAITH RINGGOLD has had a profound influence on the contemporary art world beginning in the 1960's when her unique style first appeared. During the 1970's she introduced her dynamic Tonka quilts into the public consciousness coupling the originality of the avant-garde with the folkloric tradition of story telling. Faith Ringgold is a master storyteller and her inventiveness and narrative force have mirrored the aesthetic beauty of her creation. She has had numerous books published including her famous book Tar Beach, winner of the 1992 Caldecott Honor. The 1990's marked yet another rich chapter in the creative life of Faith with her series The French Collection that toured nationally through October of 1999. The American Collection of the late 1990's continued her powerful theme of social commentary while pointing to new directions in her subject and palette. This direction can be seen in her current body of work titled the Jazz Series. ©2004 NBFA
"Faith Ringgold was born in 1930 in Harlem, a neighborhood in New York City. She went to City College in New York to study art and earned her degree from the School of Education. She followed the family tradition of teaching, but never stopped creating her own art or telling stories.
Today she is Professor Emeritus at the University of California at San Diego and lives in Englewood, New Jersey. She is married and has two daughters and three granddaughters." (TM & © 2004-1996 Scholastic Inc.)
Home Page | Artwork | Framing | Restoration | Shows & Events | Online Store | Master Works | Pioneers | Princeton
Willard Page Collection | William Bock's Fine Art Catalog Rasoniee
Contact Us | About Us | Art Links
This page is copyright ©1995 - 2019
William Bock Fine Art LLC