Search | Order | What's New

OUR CHILDREN, OUR OCEANS, OUR FUTURE

AN EXHIBIT OF MARINE ARTWORK BY THE STUDENTS OF NOVA DWIGHT D. EISENHOWER ELEMENTARY SCHOOL IN CONJUNCTION WITH WILLIAM BOCK FINE ART
Where: Art & Frame
7150 Stirling Road, Davie, Fl 33302
Contact: William Bock at 954-442-1551

When:

Thursday January 27, 2005 through Saturday Feb 12th



Opening Reception:

Thursday January 27th 3:30 PM – 7:00 PM


Purple Fish Grade K Eleanor Bock
---
MARINE LIFE ART EXHIBIT created by the children of grades K -5 of Nova Dwight D. Eisenhower Elementary School and hosted by artist William Bock at Art & Frame in Davie, Florida. The idea for a show of students work in a gallery setting came about through the school's assistant principal Ms. Sheron Jordan and art teacher Ms. Angela Quezada, along with the support and encouragement of Ms. Cindy Frisch, principal.
"We must protect our gentle denizens of the deep"
Ms. Quezada teaches art in Grades K – 5. She explained that students used reference books to get ideas for their compositions. The classes brainstormed types of sea life and categorized them into groups (mammals, fish, amphibian, crustaceans, etc.) Students used watercolor, marker, pastels, paper weaving, oil pastels, paper mosaic, crayon colored pencil and collage to create their pictures. About 10 pieces were chosen from each grade level. The resulting images show an exceptional variety of creativity, imagination and talent. The collective work is a pleasure to behold! Each of the 60 pieces selected is matted, labeled with its title and the student's name and grade, and hung on the gallery walls.
Ms. Quezada grew up in New Jersey and graduated with a BA in Art in 1995. She also has earned an AA in Music and an MA in Bilingual/Bicultural Education. Prior to teaching, Ms. Quezada worked as a desktop publisher and graphic artist. She then taught art for 2 years before becoming a classroom teacher for Bilingual and ESOL students. She moved to Florida in 2002 and taught for two years in elementary classes before securing the Art teaching position a Nova Eisenhower Elementary. One of her goals is to become a specialist in writing and illustrating books to help improve children's reading abilities. Certainly her personal talent and love of children is reflected in the student's work.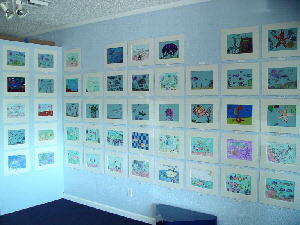 Gallery owner and artist William Bock is active in his support of the Broward based National Save the Sea Turtle Foundation. Last year he was given a one man exhibition of marine life at the IGFA Fishing Hall of Fame Museum. The current "student" exhibit reflects his interest in the environment, as well as his support of Nova Eisenhower Elementary School where his daughter Eleanor Bock attends Kindergarten.
Born in Chicago, marine wildlife artist Bock began his professional career at Indiana University, followed by an apprenticeship at the Johnson Atelier Technical Institute and School of Sculpture in New Jersey. He received his Master of Fine Arts degree at the Maryland Institute College of Art in Baltimore, MD in 1987. The ocean, seashells and tropical flora and fauna are recurring themes in his artwork. In 1994 he moved to Florida to surround himself with the tropical landscape that inspires his work. William Bock has exhibited extensively throughout the United States and has participated in several museum exhibitions. He has won numerous awards fro his painting and his work is included in many prestigious collections.
Contacts:
Nova Eisenhower Elementary School: Angela Quezada @ (754) 323-6650
Art & Frame Shop: William Bock @ (954) 442-1551
Interviews and Photos available upon request.
Home Page | Artwork | Framing | Restoration | Shows & Events | Online Store | Master Works | Pioneers | Princeton
Willard Page Collection | William Bock's Fine Art Catalog Rasoniee
Contact Us | About Us | Art Links
This page is copyright ©1995 - 2019
William Bock Fine Art LLC