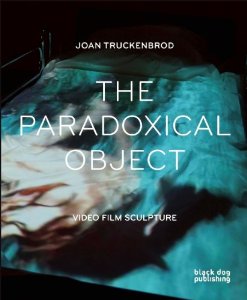 The Paradoxical Object: Video Film Scupture

An illustrated reader on the fascinating subject of video sculpture, The Paradoxical Object opens up a new genre of artmaking. Digital artist Joan Truckenbrod explores the idea that video sculpture creates unique time-based objects with their own behaviours, stories and sound.

The process of video sculpture is co-linear with contemporary cultural studies that illuminate the resonance of objects, and the agency that they perform. In activating objects or sculptural forms, this collaboration of video and object creates an innovative portal for connection with other realms. Memories embedded in objects are also released by the viewer's interaction with the artwork.

This book significantly examines the paradoxical object as created by artists using the juxtaposition of video narrative and cultural object in a video sculpture. The process of creating paradoxes through unlikely, insightful pairings of video projection onto objects is elucidated. Video as a three-dimensional sculptural element is innovative in contemporary art. Video intervenes in the object as the object interrogates the video while video projection has the ability to redefine objects, injecting social, economic, or political agendas.

The artists featured in this book include: Susan Collins, Tim Head, Tony Oursler, Bill Viola, Ann Hamilton, Joan Truckenbrod, Shigeko Kubota, Alan Rath, Jaume Plensa, amongst others. The text throughout the book provides a complex narrative on the subject, as the social and cultural references found in the object are juxtaposed with video imagery and sound.

The book is published in collaboration with The School of Art Institute, Chicago.
The Paradoxical Object
Video Film Sculpture

Joan Truckenbrod

Online purchase coming soon

Price $45.00 free shipping

February 2013
Paperback
160 pages
210 b/w and colour ills
28.0 x 23.0 cm
11.0 x 9.0 in
ISBN13: 978 1 907317 60 6